Central Hindu Military Education Society (C.H.M.E.S)

The Central Hindu Military Education Society was established by Dharmaveer Dr. Balkrishna Shivram Moonje, a great philanthropist, brave freedom fighter and the pioneer of Military Education in India. Dr. Balkrishna Shivram Moonje was a firm believer of Indianisation of armed forces during the British rule and indispensability of Military Training to Indian youth.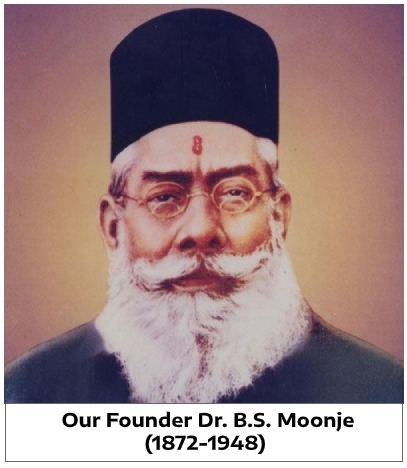 The Central Hindu Military Education (CHME) Society was established by Dr. Moonje at Nasik in 1935. The society started with prestigious Bhonsala Military School in 1937.
The society has grown over the decades and has over 18 educational institutions at Nashik, Nagpur and other locations.

The society has a 165 acres campus in the heart of the Nashik City.

The society has more than 75 years tradition of Value System and Military Education, Adored for discipline and quality education, all over India as well as abroad. The campus is renowned as "Rambhoomi".

Prestigious Institutions Of C.H.M.E. Society

At the current day, CHME is running a number of institutions imparting quality education right from K.G to P.G., from Military Education to Technical Education and Social Sciences to Modern Sciences.

Dr. Moonje Institute (DMI) was established in year 2002 by the CHME Society and Inaugration was done by Hon. SHRI. MURLI MANOHAR JOSHI, THEN HRD MINISTER.
As a Mission DMI is committed to Impart Professional Education by inculcating three basic values among the students, Building National Character, Quality Education & Developing Management Skills.