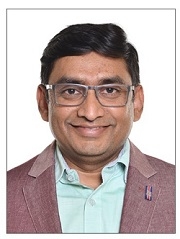 Rahul Vaidya Chairman, DMIMCS
Dr. Moonje Institute believes in imparting quality education to all students. The institute has excellent state-of-art infrastructure, healthy learning environment, and academic ambience with pro-active academic leadership, experienced and dedicated research oriented faculty, strong institute-industry interaction and collaboration. The institute has optimum infrastructure as per the norms of AICTE.
The Institute is striving very hard to impart management education that not only sharpens the intellectual power of the student but also inculcates discipline ethical and social values, thus preparing students to shoulder responsibilities towards the business, the society and the Nation. Our educational approach is to impart quality education for developing vibrant business leaders and creating I.T professionals of high caliber with Indian values, global vision and social skills.
We aim to train and equip our students to get placed in top notch corporate and business units by transforming and tapping the latent potential and talent dormant in students. I have great pleasure in extending a warm welcome to the prospective students.