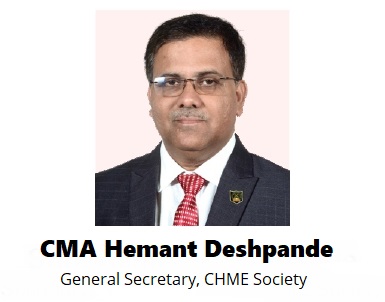 "We want the education by which character is formed, strength of mind is increased, the intellect is expanded, and by which one can stand on one's own feet" - Swami Vivekananda
We believe in the educational thoughts of Swami Vivekananda. For the holistic development of any individual education plays important role in our life. These thoughts have much significance in the modern education system which has lost its connection with the values of human life.
The C.H.M.E. Society is consistently follows the precious thoughts of Swami Vivekanand. The society has a rich tradition of more than 80 years of valuesystem and military education. The prestigious educational campus is well known as Ramboomi. Considering the need of modern era, Dr. Moonje Institute of Management and Computer Studies (DMIMCS) is committed to impart education through inculcating basic values – Building National Character, Quality Education and Developing Management Skills.
As we look back at the yesteryears, we found that journey since 2002 has been a period of great achievements for the Central Hindu Military Education (C.H.M.E.) Society and Dr. Moonje Institute.
We have accepted military education as well as management education as a primary mode of serving Indian society at large. We are building national characters through future business leaders and IT professionals who also have determination to serve the society and lead the nation. The major contribution of DMIMCS since its inception is in strengthen the business and IT skills vital for society and corporate.
We are sure that we would be able to achieve greater success and fame for our students in the years to come.